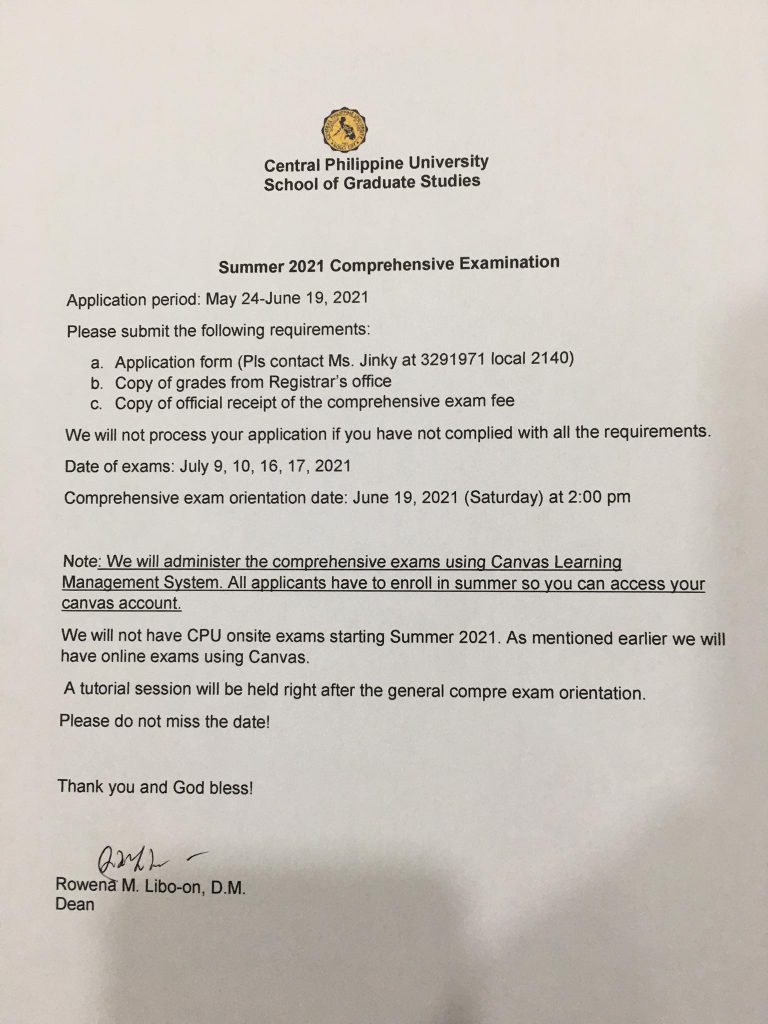 Here's the downloadable Application form for Comprehensive Examination.
https://drive.google.com/file/d/1ZIKOo6BBvbm4Q_Bqr-op0-Z569Me1Ik3/view
Summer 2021 Comprehensive Examination
Application Period: May 24- June 19, 2021
Please submit the following requirements:
a.Application Form (Pls contact Ms. Jinky at 329-19-71 local 2140)
b.Copy of grades from Registrar's Office
c.Copy of official receipt of the comprehensive exam fee
We will not process your application if you have not complied with all the requirements.
Date of exams: July 9, 10, 16, 17, 2021
Comprehensive exam orientation date: June 19, 2021 (Saturday) at 2:00 PM
Note: We will administer the comprehensive exams using Canvas Learning Management System. All applicants have to enroll in summer so you can access your canvas account.
We will not have CPU onsite exams starting Summer 2021. As mentioned earlier, we will have online exams using Canvas.
A tutorial session will be held right after the general comprehensive exam orientation.
Please do not miss the date!
Thank you and God bless!